Shopping Cart
Your Cart is Empty
There was an error with PayPal
Click here to try again
Thank you for your business!
You should be receiving an order confirmation from Paypal shortly.
Exit Shopping Cart
Welcome to my blog!  Here you'll find updates and musings on my experiences in the wonderful world of piano technology.

After a year in Chicago, and a summer in Tanglewood, I am excited to finally be settling ASB Piano Service in its new (and hopefully much more permanent) home in Omaha, NE!  Though I have much to be thankful for from my time in Chicago, Omaha has been a refreshing change, both in terms of pace of life and especially in terms of proximity to friends and family.
Though it means a restart on business for ASB Piano Service, I really look forward to becoming an active part of the music community in Omaha, and meeting many of its pianos and their owners over the coming years!  Here's to a bright future!
I am extremely honored and excited to have been selected as the Senior Piano Technician Fellow for the Tanglewood Music Festival - summer home of the Boston Symphony Orchestra!  Only 3 fellows are selected from dozens of applicants, and only one of those is chosen for the senior position - so I feel immensely blessed and grateful for this opportunity!  I will be there for 10 weeks - from the beginning of June to the middle of August, and will be tasked with preparing the fleet of pianos that arrive for the festival, and tuning and maintaining the pianos throughout the summer.  As the senior fellow I will also have the good fortune of doing concert work on some of the pianos used for performances.  It will be an intense and challenging summer, but one I am very much looking forward to!

As part of my advanced curriculum year at the Chicago School for Piano Technology, I've been tasked with restringing a 1956 Yamaha G3.  This is a very involved and lengthy process, involving the removal of all strings, pins, & pinblock, as well as the manufacture of a new pinblock before we install new strings.  And while everything is taken apart I'll of course do some cleaning and rehabilitation of the action.  I've started a photo gallery to provide a pictorial journal of the work through this year.  Check the blog and photo gallery often for updates!

Some days are spent working on humble spinets and old consoles.  Competent instruments in their own right (... mostly), but there's a reason you don't see many concerts where the pianist is seated at a spinet.  Then there are days when I get to work on a fine concert instrument.  These are the kinds of instruments where a good tuning brings the piano and the music played on it to life.  Where one is tempted to play a little longer after the tunings are done - you know, to thoroughly enjoy the piano evaluate the tuning.  
Friday was one of those days.  And I was lucky enough to tune not just one, but two fine concert instruments.  My first was a Shigeru Kawai SK7: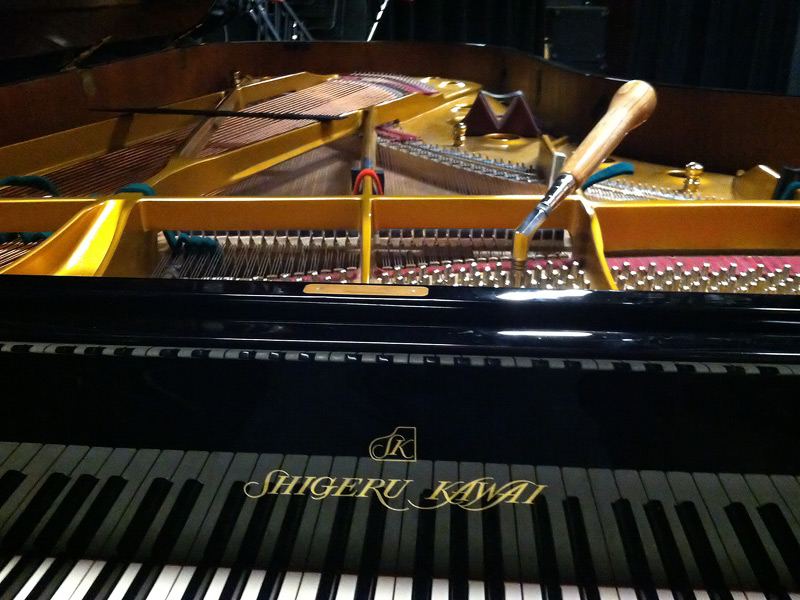 As a pianist I've had a soft spot for Shigeru Kawai's ever since playing an immaculately prepped and seemingly telepathic SK6 in a showroom 5 years ago.  This was my first opportunity to tune one, and it was a pleasure. 
The second instrument was a Yamaha CFIII concert grand: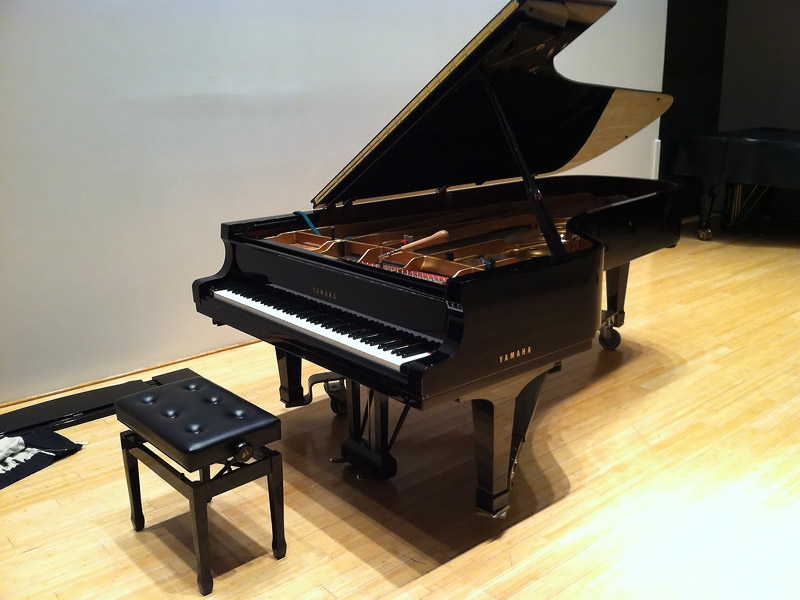 This happened to be my first opportunity to tune a concert grand, and it was a rewarding and eye-opening experience (even though I did have to do a pitch raise first)!  The clarity in the low bass was a revelation, coming from my experience solely on pianos under 7 feet in length.  In many shorter pianos, even as a technician it's hard to hear the actual pitch of the lowest 3 bass notes with any real clarity.  There are tests and checks we can use to verify the pitch, but it's still not a very clear tone when played on their own.  In this Yamaha it was wonderfully clear. 
The bonus with both of these pianos is that once I was finished, I got to evaluate the tuning by playing a few quick pieces - on a well prepped, well tuned (if I may be so bold) concert instrument, on stage in a recital hall.  
It's a rough life.
More often than not, when I visit a piano out in the field, at least one technician (if not more) has serviced the piano before me.  Most of the time the technician's work is transparent, in that any repairs that were done were carried out proficiently, so that there's no outward sign (save for the occasional shiny new string or part) that a repair was needed.  
Sometimes, though, the work is not so transparently done.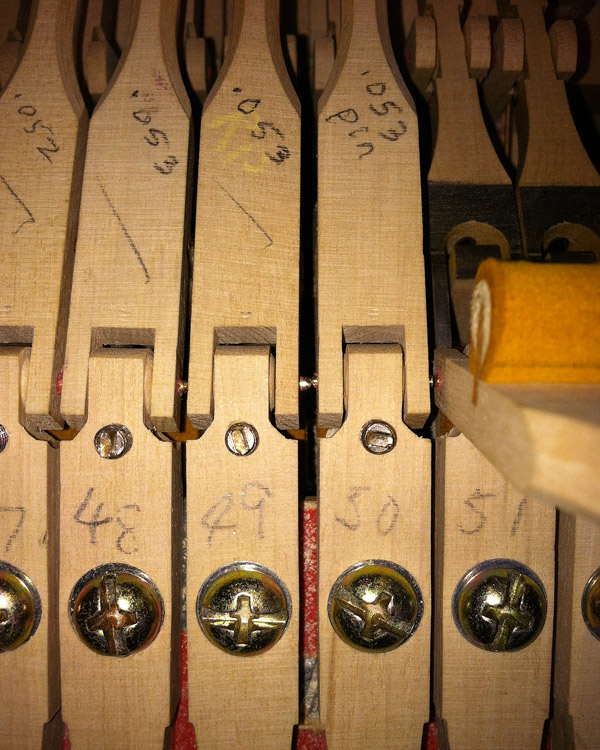 Where the two flanges meet in 48-51, you'll see metal pins sticking out the sides.  Here's another view: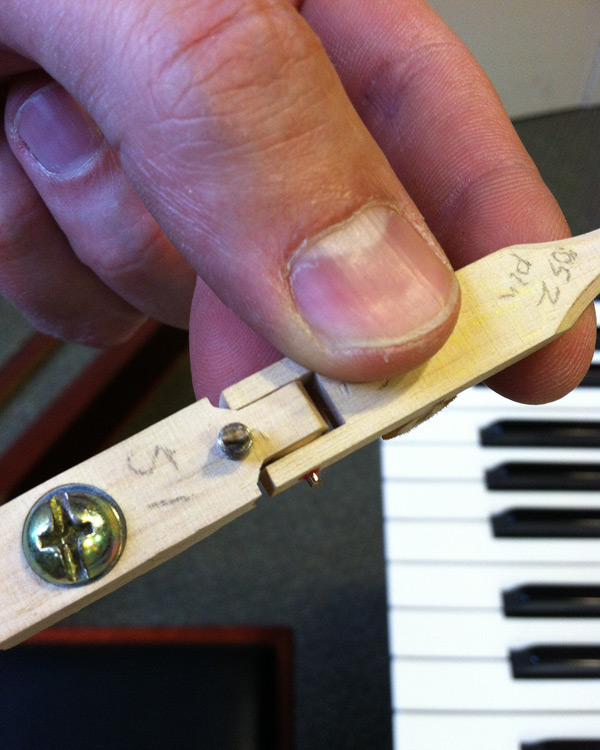 The pins should be cut flush to the side of the flange.  As I found it, they were sticking out far enough to be rubbing up against the neighboring pins, introducing extra friction into an action that was already plagued with it.  A quick fix, thankfully, but it did leave me scratching my head at the oversight.
/