Shopping Cart
Your Cart is Empty
There was an error with PayPal
Click here to try again
Thank you for your business!
You should be receiving an order confirmation from Paypal shortly.
Exit Shopping Cart
I received a call last week asking if I could come take a look at an old Chickering that needs tuning.  I asked when it had last been tuned, and the customer said "well, I had a tuner here a week and a half ago, and he said it was untunable."
Uh oh.
I arrived yesterday to find a lovely little Chickering Quarter Grand.  The piano has been in the family for decades, and was made in the same year the customer's grandmother was born, so it had quite a bit of sentimental value.  For its age it looked quite nice - it had been partially rebuilt roughly 15 years ago - restrung, new hammers, new keytops and new damper felt.  A closer look, however, revealed some serious issues.  The dampers were in pretty rough shape - though they had new felt, the felt was misaligned in places, and the dampers themselves were very uneven - in some sections they were hardly touching the strings at all, or were tilted so only the front or back half of the dampers were contacting the strings.  In addition, there were several unisons where the left string was crossing over the middle string on the counterbearing felt. 
So the previous tech was indeed correct - in its current state, the piano was untunable.  While trying to isolate one note, all the strings that were not damped properly would be vibrating sympathetically, muddying up the sonic picture, and the overlapping strings would cause issues with tuning stability - tuning one would cause the other string to move slightly, too.  But, not one to turn down a challenge, I decided to pull the action out to see what the underlever system (what the dampers connect to) looked like.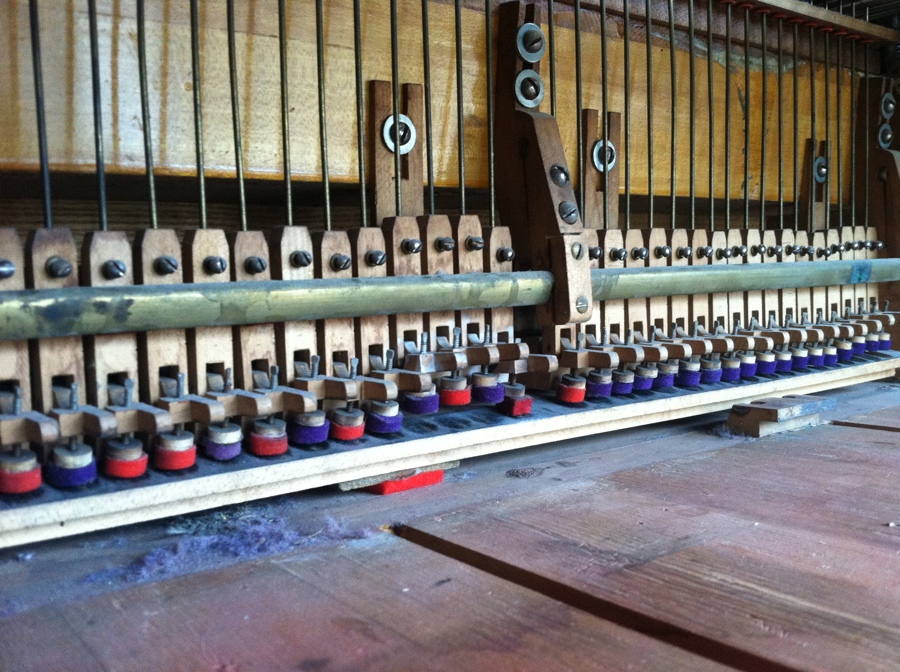 which usually means spending a lot of crouching and bending to access the necessary parts.  These dampers were no exception, either.  The underlever system was not the most technician friendly setup either, with the tiny set screws for adjusting key timing!  But thankfully, after a couple hours work, the dampers were all functioning properly again, and the overlapping strings were realigned, making this piano tunable again.
Every day is an adventure!

Categories: Field work
/